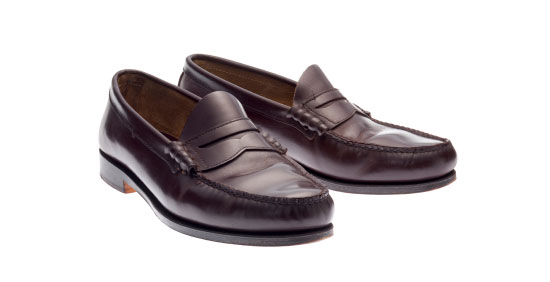 "Loafers" don't just refer to your lazy, good-for-nothing in-laws. It's also the name of a shoe style first seen in the 1930's, one that has enjoyed popularity among both men and women's footwear over the decades. Loafers are traditionally low and flat, although some styles do have a bit of heel (especially among the women's versions). They slip on and off since there are no laces, and are often made of leather. "Penny loafers" became popular in the 1950's, so named because people would place a penny in the gap at the top of each shoe for decoration.
Loafers were first observed in the States in the 1930's, when Esquire magazine published photos of a moccasin-type leisure slipper imported from Norway. The shoe style was quickly adopted by Americans. The Spaulding family of New Hampshire soon began manufacturing them under the name "loafers." Loafers were originally intended as a casual slipper to be worn in the home, but their popularity has helped them cross over to become an acceptable casual shoe.
In the 1980's, loafers were all the rage as Tom Selleck, Don Johnson and TV's hottest male starts sported them with their pleated shorts and khaki pants. The preppy penny loafer style has been en vogue as recently as the 1990's, but loafers currently do not enjoy a place on the must-have style lists. If you're one to stay on the cutting edge of fashion, we don't recommend adding loafers to your shoe wardrobe. If fashion isn't a primary concern and you absolutely must sport your favorite pair of loafers, here are some tips to keep in mind.
1.    Loafers are intended to have an upscale casual look, so avoid pairing them with jeans and t-shirts. For men, Bermuda shorts or khaki pants are good choices for a more sophisticated look.
2.    If you're wearing loafers with pants, then wear dark socks.
3.    If you wear loafers with shorts, don't wear socks. Especially don't wear white socks, or you risk looking extremely nerdy.
4.    Loafers are fine choice when you're relaxing at home because they're so comfortable. The best part? No one but the dog will know what you wear with them!