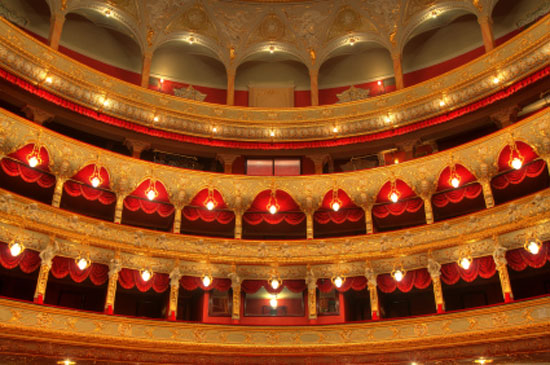 For most minds, the word "opera" conjures up images of corseted women and barrel-chested men belting out glass-shattering notes on a massive stage. The performance of opera has a long and rich history, with music and stories that dazzle and move their audiences to tears. Because the first opera audiences were primarily wealthy European aristocrats, dress at the opera was always lavishly formal and meant to impress. The tendency to dress formally to attend an opera performance continues today, though the attire of opera attendees can vary widely.
If you are attending an opera for the first time, do not be intimidated by the thought of looking out-of-place or clueless. While the attire of most attendees leans toward dressy, attending the opera nowadays is much like attending a movie. Attire can range from jeans to business casual to full-blown formal with tuxedos and ball gowns.
When deciding what to wear to the opera, the first consideration is the date. If you will be attending on the opening night of a particular opera or any special gala event, the dress will tend toward black tie or very nice dress clothes. This will be not only a cultural event, but a social function as well, so expect fellow opera patrons to be stepping out with glitz and glamour. Tuxedos will be common among the men, while women will likewise dress in elegant cocktail dresses or evening gowns. This will be the time to show off the very best your closet has to offer.
Another consideration is whether the opera house you will be attending has a specific dress code for patrons. Most do not, but it is always wise to check prior to the date you will be in attendance. Visit the venue's website for information, or consult your ticket information. For example, the Royal Opera House in London states, "There is no dress code for visitors to the Royal Opera House. Informal evening wear is the most adopted attire but is not a requirement."
To get the most enjoyment out of the evening, consider your own preferences. Are you and your spouse wanting to experience an extra-special evening on the town? Dressing up will add extra sparkle to your night out, since most people rarely have the opportunity to dress in formal attire. For a bit more comfort, opt for a semi-formal outfit such as a sports jacket and slacks for a man, and a nice blouse and dress slacks, skirt or dress for ladies. However, if you detest wearing a suit and tie, or high heels and pantyhose, then opt for whatever you are most comfortable in. If you prefer jeans and don't mind that other audience members might consider you underdressed, then wear whatever you like and enjoy the performance in comfort.
However you choose to dress for the opera, be sure to wear clothing that is comfortable to sit in. Operas can be quite lengthy, and you will be sitting for the majority of the evening.