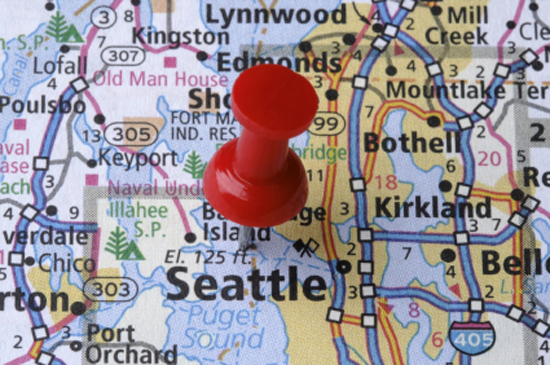 Seattle, on the Northwest coast of the United States is a city that is known for rain. It is reputed to be foggy and wet most days of the year. However, despite the fact that it is often overcast, actual rain accumulation is surprisingly not as high as you would expect. In fact there are cities in Florida which receive much more precipitation yearly than Seattle. In addition, the warm currents of the Pacific Ocean tend to protect the city from harsh winters, unlike its neighbors more inland. If you are heading to Seattle you should get some advice on how to dress.
Outerwear is essential in Seattle. If you are planning to go to Seattle in spring, winter or fall, you will want to bring along a raincoat and an umbrella. If you go in winter, plan to bring a waterproof winter coat and waterproof boots. Two pairs of gloves, two scarves and two hats are advisable also. By having the second of each, you can allow them to dry if they become wet and still be protected from the elements.
Summers are warm and relatively dry in Seattle. Bring lots of lightweight clothing, shorts, T-shirts, tank tops, summer dresses and the like. Sandals or comfortable shoes are also a good choice. Flip flops are a popular choice unless you plan to do a lot of walking. Bring along a sweater or long sleeved shirt for inside in case the air conditioning in public places makes it too cold.
Being health-conscious and environmentally concerned are two of the major passions for people in this area. You will find that many people are obsessed with eating organically and locally. Many such individuals will favor a look that is very laid back. Those who are extremely into saving the environment will often wear clothes made of hemp, organic cotton T-shirts with green messages on them or may also be advocates of shopping only for second-hand clothes. Such attitudes have an impact on the type of fashion you see locally.
The music genre "grunge" was started in Seattle. The grunge look is also very commonly seen there. If your look is best described as grunge you will find that the clothes you already own are perfect for Seattle.
Seattle is a city that offers much in terms of outdoor activities and sports. Therefore you will see a great number of people in sports gear almost everywhere you go. If you are planning to get outdoors in Seattle and get some exercise, choose appropriate sports apparel to keep you comfortable and dry.
The rather outdoorsy feel of the city, combined with the fact that there are many colleges and universities in Seattle means that the casual look is in abundance. Even many workplaces enforce a business casual guideline for dressing. This fits well with the West Coast mentality.
Pack your comfortable casual clothes and maybe a dressy outfit for a special evening for your next trip to Seattle and you'll be all set for a great time.