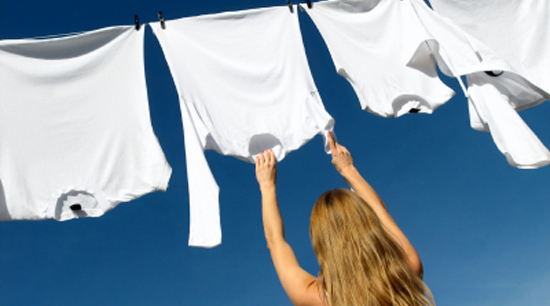 Following laundry instructions as they are printed on the tags of clothes, including T-shirt often means that you end up hanging them to dry. Some people have a love of hanging clothes to dry outside and do so during all 4 seasons. Still others simply like to hang clothes inside to dry, in order to save on laundry costs or to avoid shrinkage. Whatever the reason you choose to hang dry your clothes and T-shirts, there are some things to keep in mind.
•    Hang clothes in an area where air circulates freely. If you hang them outside, this is easily done. However, for clothes hung inside it is important to space them apart and allow air to flow around them. This reduces the chance of mold and speeds up the drying process.
•    If you are using clothes pins or clips of some sort, pin them on a part of the clothing that will be least affected if they leave an indentation. A good choice for pants is the waistband. A good choice for T-shirts is the hem, especially if you plan to tuck in the tee.
•    Also if you pin up your clothes to dry, be sure to use enough pins to make sure the wet item does not stretch and sag disproportionately while drying. Pinning just the end of clothes made out of absorbent cotton, like T-shirts, often results in stretched out ends when the item is dry.
•    For clothes that are hung outside to dry, it is important to make sure you are not putting them there during high pollen count season if you have an allergy sufferer in your house. It will affect his or her allergies greatly.
•    Another thing to remember about outside drying is that the sun has a natural bleaching effect on clothing. Therefore white tees and clothes will look great dried outside, while color clothes will fade more quickly from drying outside.
•    For the best look possible from a line dried item, pull and tug out wrinkles as you are hanging it, restoring it to its intended shape. This will also save ironing time.