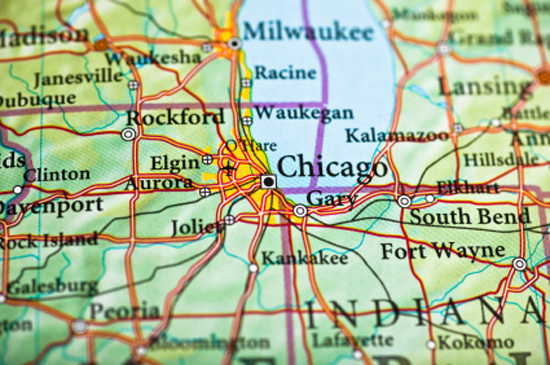 Chicago is nicknamed the Windy City and if you visit at certain times of the year, you will have no doubt as to where the name came from, although in reality it was named such because of local politicians there. It is an exciting place to visit. However, knowing what to wear in Chicago is very important. Chicago may be in the Midwest, however, it is definitely a big city and as such fashion is different than in small towns.
Chicago is a city known for its architecture and elegance. It is the booming "New York of the Midwest" and as such, fashion is important. Those who live and work in Chicago will attest to the fact that most people there pay attention to fashion. They keep up with the trends, dress with care and accessorize beautifully. If you are going to Chicago, you will want to have a variety of well-put-together outfits ready for all occasions. Whether you are going to a show, restaurants, sight-seeing or shopping, you will see city-dwellers dressed up.
The city itself offers a variety of boutiques, featuring renowned designers. There are also a multitude of places where you can find less expensive but still stylish outfits. Chicago is truly the biggest fashion Mecca west of New York. Well-dressed individuals are wherever you go.
As with every place, the season dictates more precisely what you will wear. Those who live in Chicago will tell you that they have two seasons summer and winter, with a week or two of milder temperatures separating them. While this may be a bit of an exaggeration, it makes for easier clothing choices when you are shopping. With a wardrobe of true summer clothes and true winter clothes you will be able to manage the tiny spring and fall with a little mix and match creativity.
Summer is very warm in Chicago, so keep your clothing choices light and airy. If you plan to sightsee, be sure to take an extra sweater or blouse to cover up when you go inside. You may get cold in air conditioned buildings. Wear comfortable supportive shoes, because even though the L is a reliable form of transportation in the city, you will still find that there is quite a bit of walking to do to get to some of the places you will likely want to visit.
In winter, Chicago can get bitterly cold. Be sure to have winter boots with good traction to make sure you don't slip on ice. In addition, a long very warm winter coat is needed. Be sure to invest in good warm winter clothing for optimal comfort. If you plan to spend extended periods of time outside, a snow suit and possibly even some long underwear will be welcomed also.
If you are visiting Chicago on business, keep in mind that this city is a financial and business center and as such, many companies, especially ones located in downtown Chicago, require business attire. For women this will include pantyhose, even in the summer, with a business suit. For men business suits are a requirement.
When eating out, expect to find dress codes in the nicer restaurants. Shorts are often a no-no, especially for evening dining. Many places will require men to wear a jacket.
As you prepare for what to wear in Chicago, be sure to check the weather so you know what the Second City is bringing your way.