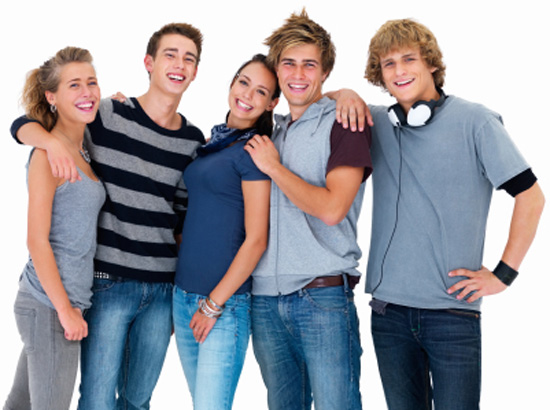 Jeans aren't just for school kids and yard work anymore. With so many designers coming up with sophisticated, stylish takes on this American perennial, jeans can work for you from morning until late into the night. The key is what you pair them with. Wearing jeans to cocktail parties and restaurants is fun, but the look falls flat without the right accessories. Here are a few ideas for what you can wear with your favorite pair of jeans.
•    With the Bohemian look hot right now, tunics are a fun choice to wear over straight-leg jeans and heels.  Keep in mind that a longer jean is necessary to balance out the longer top. Avoid tunic-style tops that pass the mid-thigh area as they will make you look disproportionate. It's also important to wear flat-front jeans with this style to prevent weird bumps and lumps in the tummy area.
•    Consider the color of the denim. Generally, dressier jeans will have a darker wash. Dark, nicely tailored jeans and a collared shirt could even be a good choice for Casual Friday at the office. Jeans that are more faded and distressed are a good choice for wearing out-and-about and to informal events.
•    Men and ladies can dress up dark jeans with a blazer or tailored jacket. To go to a more relaxed look instantly, just remove the jacket.
•    High heels will add pizazz to jeans every time. If you're going for an upscale look, avoid pairing jeans with athletic shoes unless you're wanting to look like Jerry Seinfeld.
•    During the colder months, try layering a button-down shirt with a tee, a jacket and jeans. Low heels and a classic handbag complete a warm yet sophisticated look.
•    A tiered, ruffly tank top and heels are a fun match for a pair of sexy jeans, and perfect for a night out on the town. For a dinner date or a casual evening out, pair well-fitted jeans with a sweater or dressy blouse.
•    Create a cuffed jean by rolling up your jeans, then add leather ankle boots and an elbow-length top for a fun, adventurous style.
•    Belts can go a long way toward making your jeans look sassy or polished. A nice leather belt can finish off a dressy look. Metallic, sequined, studded and various other kinds of belts will draw attention to that curvy silhouette for the nighttime.
•    If you have a pair of "skinny" jeans, try wearing them with ballet flats and a tunic for a casual day look. For a more modern look, wear knee-high boots with the jeans tucked in.
Small details such as contrasting stitching, interesting pocket designs and sparkles can add a great deal to the overall look of a jean. Less is more in this department though, as too much detailing can make jeans look tacky. If you are bottom-heavy, avoid large back pockets or other design elements that draw attention to that area.