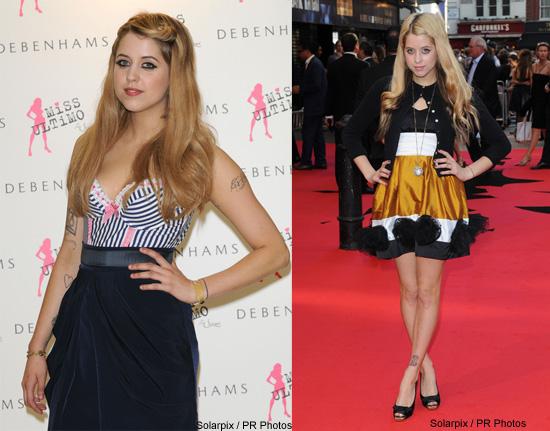 Peaches Geldof is the daughter of Bob Geldof, the singer-songwriter. Her full name is Peaches Honeyblossom Michelle Charlotte Angel Vanessa Geldof. To date Peaches' claim to fame is simply being a socialite. Born in 1989, she is still very young and is currently in college. She has done some broadcasting work and has been featured in a variety of magazines around the world. One of them has even included her in the top 10 fashion icons in recent years.
Her long sometimes dark and sometimes blond hair and the styles she wears often gives Peaches a look of little girl lost. She is currently sporting lightened hair. She is considered to be one of the British "It" girls, especially in terms of fashion, even though she currently resides in the United States and goes to New York University here. Peaches is one of those style queens who can pull off practically anything, matching items and prints that should never be matched but somehow making it work.
Peaches has gotten involved with a fashion group called PPQ. She designs for the company and they create her fashions. It is a perfect business arrangement for both sides. This is a great example of just how fashion savvy she really is. How many clients are turned to for help in any business?
Peaches is a big fan of the color black and often adorns herself in it. She tends to gravitate towards short skirts and tights as a signature part of her outfits. She also has some great looks with black and ivory together in short dresses. It makes for a very sophisticated but young look.
For the red carpet, Peaches knows how to pull together a worthy look. She wears her hair up in a sophisticated style. She opts for floor length sophisticated dresses which are one or two tone and have a completely grown up look to them. In regards to accessories, Peaches tends to use a wide variety of them. Occasionally she can be seen wearing a tam. When it comes to a purse she uses a variety of sizes from the handheld clutch to a big bag. She sometimes wears jewelry but is not over done. One of the things that makes her stand out in a crowd is her intense use of eye makeup. Her eyes are rimmed with black eyeliner consistently.
If you are striving to dress like Peaches Geldof, get yourself some of her signature wardrobe pieces in order to get started. Opt for black short skirts and tights before anything else. Throw in a great leather jacket, some black heels and a plaid shirt. Check out photos of her online and see what else she is wearing so you can recreate the awesome looks that she is so well known for.