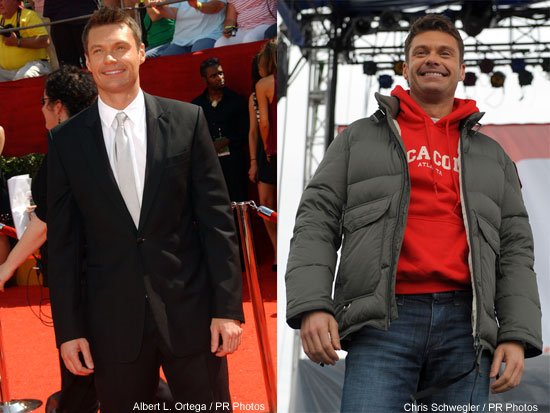 Ryan Seacrest has a trend-setting casual look that has inspired countless people to try to achieve it. His look is sometimes a mixture of casual pieces and business casual items, though sometimes he puts together purely casual outfits that would be just as at home in a club or on a beach.
Jackets
Ryan Seacrest wears a lot of jackets, both for his TV hosting duties and as a part of his personal look. He wears many dark jackets that coordinate well with the rest of his clothes. Many of his jackets are navy blue, black or dark gray. Most of the time his jackets are a solid color, but he also has some jackets with vertical stripes.
To get this look, pair a dark jacket with either a dressy button-up shirt that is the same color as the jacket, or pair it with a t-shirt with an elaborate pattern on it. If you choose a striped jacket, get one that has self-colored stripes.
T-Shirts
Ryan Seacrest's collection of t-shirts is impressive. He has long-sleeved t-shirts for every occasion, and he dresses them up or down by pairing them with either dressy pants or a pair of jeans. To find a t-shirt that Ryan Seacrest would wear, look for one that has a neutral background color such as beige, khaki, navy blue or black. The t-shirt should have long sleeves and it should have a pattern on it in a contrasting color.
Occasionally, he will wear a short-sleeved t-shirt that has a printed saying on the front. To get this look, find a t-shirt that has a wry saying about celebrities or culture. For a look that really evokes Ryan Seacrest, make the t-shirt comment on some aspect of American Idol.
Jeans
As a jeans enthusiast, he has many different casual jeans looks. He often wears a medium blue wash jean, and his jeans often have a faded look. To get this look you can either choose an older pair of jeans that is plenty faded at the knees and in the creases, or you can buy a pair that is faded for you. This will ensure that your jeans are in good condition as well as faded, traits that his jeans usually have.
Suits
Ryan Seacrest's suits often feature a pointy shoulder and a skinny tie with a dark-colored or medium-gray suit. Sometimes his suits are worn with a white or off-white shirt and sometimes he wears a dark shirt that matches the jacket. Occasionally, he will wear a patterned button-up shirt with a suit, leaving off the tie. The most common patterns he wears are small plaid or checkered print on a dark background.
To get his dressy look, go for dark colors and clean lines. The suit shouldn't have too much detail and shouldn't have wide lapels. Make sure the suit is in perfect condition and that none of the colors are faded in order to get his look. Ryan Seacrest always looks impeccable and his clothes are always in good condition.