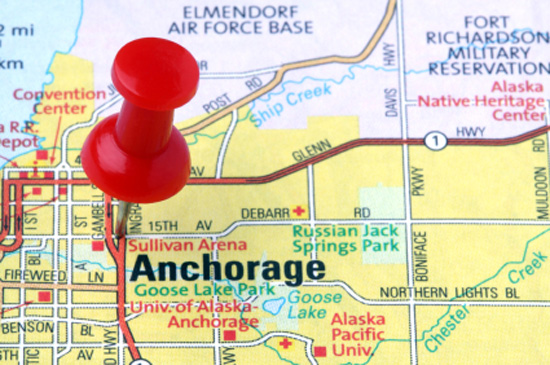 Anchorage is the biggest city in the United States' most northern and coldest state, Alaska. Its citizens make up over 40% of the state's population. This beautiful city offers amazing scenery, parks, wildlife and outdoor activities that are unparalleled in many other parts of the country. Anchorage is considered to have a sub arctic climate, which can be witnessed by its long winters and short summers. Winter days are very short and very cold with the sun appearing very little, while summer days are characterized by very little darkness and a cool temperature.
Visiting Anchorage during their very long winter definitely requires preparation. Heavy winter coats are a must. Thermal gloves or mittens, hats, scarves and lined winter boots are also necessary. In fact the temperature can get so low that winter clothes that would prove to be fine in many other places does little to protect you from the cold. If you live in the Southern portion of the United States and are planning a winter expedition to Alaska, be prepared to purchase outerwear that may be hard to find in your part of the country.
Visiting Anchorage in summer for most people will require fall or spring outfits. For Southerners, summer in Anchorage means wearing winter in the south clothes. Long pants and shirts, light jackets and even a warm sweater for chilly days and nights are ideal. There is very little occasion for tank tops, shorts, swimsuits (unless your hotel has a pool) or flip flops. That is not to say that you won't see Alaskan residents wearing such things but if you are unfamiliar with such tepid summer temperatures, chances are you won't be comfortable scantily dressed in 60 degree weather.
Much of the attraction of visiting Alaska is exploring the unique geography of the area. In order to do so it is important to wear appropriate footwear, such as newer lightweight hiking shoes or good sturdy sneakers. Wear several layers of clothing, including a synthetic layer closest to the skin to keep you dry, comfortable and warm. A waterproof exterior layer is also a very good choice. A hat and sunglasses are very important, especially during the long periods of daylight in the summer. Wear sunscreen to protect your skin also.
Even though Anchorage is a city, due to the temperature and the lifestyle in Alaska, high fashion is not commonly seen. It is much more important for people to dress according to the temperature than to be on the cutting edge of fashion. The predominance of outdoor activities like fishing, hunting and hiking that people spend their free time doing are not typically activities that one tends to dress up for. Casual dress for both men and women is acceptable. Jeans and a sweater can take you most places. Business casual is the norm for most work environments, however be sure to check how a company defines business casual before showing up overdressed or even worse, underdressed.
No matter when you go to Anchorage, you can be sure that you will need some warm clothes, how warm exactly will depend on the season. Relax and forget about fashion while you enjoy the unspoiled nature around Anchorage.