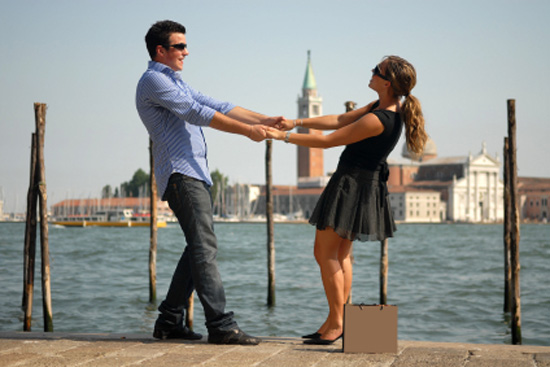 Italy is a place that is filled with culture and history and a trip to this great country will have you coming back with memories that you won't soon forget. But Italy is more than just great food and great romance it is a place where you need to look as though you are a local. The rules for dressing in Italy are not as strict as other foreign countries but if you want to 'blend' in then you do have to follow some rules.
Knowing what to wear and when in Italy can mean the difference in being labeled as 'a tourist' or blending in and coming off almost as though you are a local. Here is what you will need to know:
•    Casual wear: When you are in Italy and you want to dress casual you need to keep in mind that the Italians definition of casual and Americans definition of casual are as different as night and day. If you dress in your normal casual manner and throw on a jogging suit that is complimented by bright white sneakers you will be diagnosed as a tourist in about two seconds flat. In Italy there is a lack of closet space for many and clothing tends to be on the expensive side. For those reasons, many Italians buy only a handful of clothing from high end retailers and mix and match what they have. There clothing is usually clothing that can be worn at any time of the year and their 'casual' look is more like an American formal look. Not that you should walk around in a tuxedo, but slacks go a long way as do nice button down shirts.

•    Shorts: This is a somewhat touchy subject in Italy. Some Italian men can be spotted in shorts but their shorts will always come down to their knees at least and most Italian women won't wear shorts unless they are at the beach. If possible avoid the shorts, but if you feel you must wear them at least follow the local customs.

•    Shoes: The historic cobblestone streets in Italy are definitely not easy on the feet. If you plan on doing any type of walking around you better have a pair of shoes that have a thick bottom but not so thick that you lose the feel of the ground. Be sure that your shoes offer great ankle support so you don't turn your ankle as that can lead to a nasty sprain. As far as those sneakers, flip flops, mules, and other cozy American style shoes are concerned, go ahead and leave those behind. If possible try to get your shoes before you take your trip to Italy so that you have ample time to break them in. Even if you have the right kind of shoes for Italy a pair that is not broken in will lead to many blisters and much discomfort.
When all else fails, see how the locals dress and spend some of your money at a local shop and mimic the local fashion as best you can. While Italy always promises a great time, your trip will be even more enjoyable if you do your best to blend in.