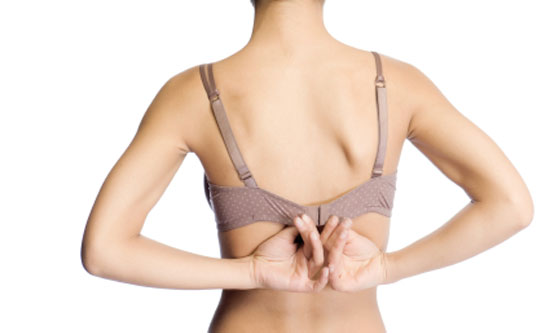 Recently someone asked, "How much will a bra stretch?" Well, the answer is rather tricky. Some bras are designed for specific purposes, like sports bras and nursing bras. They are intended for situations where you really need support in order to be comfortable yet the fabric must also be flexible (imagine playing basketball in a bustierre). Sports bras feature wider straps, broader cups and stronger construction to minimize bouncing. If you're shopping for a sports bra, you want to find one that will support your girls but not be too hot or irritating to the skin.
For everyday wear that doesn't include exercise or excess movement, there are a huge range of choices in bras. The factor that determines how much a bra will stretch is the material it is made of. Cotton has long been the staple for bra materials because it is so comfortable. Your first bra was probably made of cotton. Cotton allows the skin to breathe, and it also allows for a lot of stretch and support at the beginning. However, after a short time cotton starts to lose its elasticity, which means the bra will not provide you enough support. Another downside to the cotton bra is that the material is thin, so you risk looking pokey from the front. Cotton also fades much quicker than other materials.
Rayon is another popular bra material, especially in lower-end bras. Rayon has a silky feel to it and comes in lots of pretty patterns that look great on the rack. The downside of rayon is that it stretches and doesn't regain its shape, and it's also prone to wrinkles. Not a good choice for those looking for a seamless shape under their clothing.
Another popular bra material is lace, although a much different version than is used to make Aunt Martha's curtains. Lace bras are usually made of polyester and spandex, or a similar blend which allows for some stretch. Polyester lace can provide quite a lot of support, depending on the heaviness of the fabric. The heavier the fabric, the more the support; the lighter the fabric, the more stretch it will have. If you're a bigger-breasted woman, you should always choose support over stretch.
Another popular bra style is the molded cup, typically made from foam or fiberfill material. Molded bra cups are made on a heat press that imitates the breast shape. Molded cups look great under thin fabrics because they're seamless and smooth, but they do not allow for stretch. If your breasts are too big for a molded bra, they will start to spill over the top and sides, ruining the smooth line you're going for.
The most important consideration for choosing a bra is fit. It's estimated that nearly eight out of every 10 women are wearing the wrong bra size, which can lead to discomfort during wear, neck and shoulder pain, chaffing and a host of related problems. A professional bra fitting is highly recommended to help you determine the right size. A professional can also give you further guidance on the best fabrics to choose for your needs.