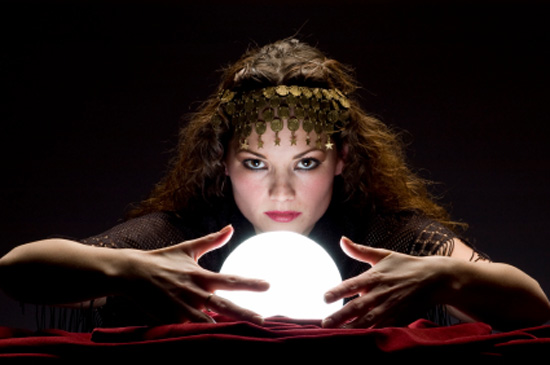 A fortune teller is someone who foretells your personal future. Typically known to use mystical or supernatural means to do so, most people picture a woman in a dark room peering into a crystal ball to see your future. Fortune tellers are often thought of as beautiful and seductive and can be mysterious and intriguing.
Fortune tellers are known to have a certain style which many people choose to interpret or emulate on occasions such as Halloween or for costume parties. In order to duplicate their style and dress like a fortune teller there are couple of simple things to keep in mind. First and foremost are the layers. From the top to the skirt to the jewelry, layers are essential. Also, wear bright colors and lots of them. Wear lots of purple, red and gold. There are very few fortune teller fashions that include boring beige or simple monochromatic tones.
If you want to dress like a fortune teller your first step is to find a top. The perfect top would be a peasant blouse with puffy sleeves. Bright colors are preferred but white will do. A blouse that ties or has a draw string at the neck or a loose fit with a v-neck is perfect. You can also add a vest over the shirt or even a cape.
The next item is a skirt. A full skirt that comes down to at least mid-calf is ideal, especially if it has many layers and many colors. Around the waist of the skirt you should wear a long scarf or sash that ties on the side and hangs long. If you are a male, wear loose trousers in a dark color.
Next on the list is jewelry. To dress like a fortune teller you need lots of jewelry. Wear big hoop or chandelier earrings, lots of big bead necklaces or long strands of gold chains. Make sure you wear many gold and silver bangle bracelets and wear as many big, chunky rings with sparkly fake gems as you can fit on your fingers.
For your head, the best choice is a scarf. Wear it low on your forehead, just above your eyebrows, and tie it in the back. Use a long scarf so the tied ends hang down your back. If you have long hair wear it down and in lots of curls. If you are a male dressing as a fortune teller, you can wear a scarf or you can choose to wear a turban with a sparkly jewel attached to the front.
Wear lots of makeup to portray the mysterious look of a fortune teller. Do your eyes in dark, smoky colors and wear a matte red lipstick. You can even add a subtle beauty mark on your cheek or above your lip.
Dressing like a fortune teller can be fun and easy. Make sure you wear lots of flowing layers and lots of beautiful colors and you'll be able to pull off the perfect look.
.