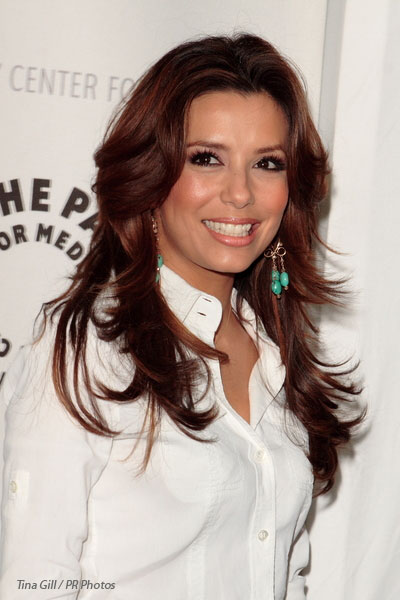 Eva Longoria is known for making her elegant casual style look effortless as well as glamorous. Her casual style always looks fresh and well put together and her formal style always looks well-tailored and flattering.
Casual Style
Eva Longoria is most often pictured looking dressed up for formal occasions, premiers and acting jobs. However, she does have a casual style of her own when she's not working or making public appearances. She often wears light colors when she dresses casually. The light colors set off her tan to perfection, and she often dresses in white, light yellow, light khaki and pastel orange shirts. She seems to prefer button-up shirts that give a little bit of elegance to a casual, everyday outfit.
With her casual shirts she will often wear a pair of shorts or Capri pants. Her shorts are usually about mid-thigh length, and she prefers light colors. Her Capri pants come in a rainbow of colors. She has been seen in white one, black, khaki and a range of pastels.
When going to a basketball game to see her husband play, Eva Longoria often dresses in a pair of jeans and either a casual top or a basketball-themed shirt.
Dresses
Whenever there's an event or a photo opportunity, Eva Longoria loves to wear simple, elegant dresses. Her dresses are most often in soft colors and often are made from silk or a satin material. Her dresses often look shiny and have simple lines and a more intricate collar area. One of her famous looks was a pastel orange dress with a jeweled collar. Like many of her dresses, it has a plunging neckline, a tailored waist and a simple, long skirt.
To get Eva Longoria's dressy look, find a simple satin dress that falls at or near the floor. The dress should have a waist line, or one can be added with the addition of a thin belt. The top of the dress should have a low neckline and either thin straps or it may attach to a large collar. Eva Longoria wears many dresses that have jeweled or frilled collars at the top and little styling elsewhere.

Accessories
Eva Longoria always has on a pair of earrings, no matter what the occasion. The earrings range from delicate dangly earrings to large hoops. She often wears gold jewelry such as small gold necklaces, gold hoops and a gold bracelet. Her dangly earrings are sometimes silver, however. To get her look, tailor your jewelry color to flatter the color of your outfit. She often wears gold jewelry with khaki clothing and wears silver jewelry when she is wearing bright colors.
Her handbags follow the current style in Hollywood- big. Try a huge shoulder bag in a light color to capture this look. She often carries an off-white or beige handbag large enough to carry anything she might need that day.
Shoes
Eva Longoria loves high-heeled pumps in neutral colors. When she is dressed up for an event, she usually wears black or beige high heels that won't take away from the look of her outfit. For casual occasions, she wears metallic sandals.