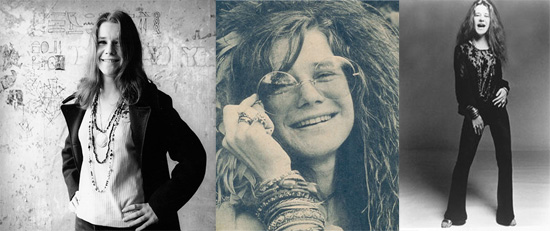 In the 1960s a movement of sorts happened and singers like Janis Joplin helped bring the 'hippy look' to the forefront. Joplin had a style that was a cross between a hippy, ragamuffin, and even a drifter. Joplin's life was tragically ended in 1970 at the very young age of 27, but her attitude and style are still admired by many today.
To dress like Janis Joplin it is important to remember that it is not just about the look and style of the clothing but you have to have the attitude to go with it. Joplin had such an air of confidence about her and that is part of what made her be able to pull off such a simple look.
Here are some tips on how you too can dress like Janis Joplin:
•    Jeans: Go with a loose fitting style of bell-bottom jeans. These were a favorite of Joplin's and there are many pictures of her wearing them. If there are some rips and tears in the jeans, don't worry as this just adds to the illusion, though you can get creative and sew on a patch or two. If the jeans appear a little on the dirty side, no worries. The more you look like you don't care about the way the jeans look, the better.
•    Tops: Think hippy. Light and frilly does the trick here. Joplin never wore anything too serious and often chose patterns such as paisley and flowers. You can finish off your shirt with a vest if you like as Joplin did this from time to time as well.
•    Dresses: Joplin also wore a lot of multi colored sundresses that were very loose fitting. The brighter and louder the colors here, the better.
•    Shoes: This is easy as Joplin didn't wear shoes much and when she did they consisted of little more than a pair of flip flops. You can also get away with a pair of sandals here.
•    Accessories: Big round bug-eye looking sunglasses were a favorite of Joplin's when she performed outside. She did wear a lot of jewelry but remember to think in the terms of a hippy when you choose yours. Never go with gold and diamonds instead choose accessories like wood bead necklaces. Wear lots of bracelets and get a couple of mood rings too.
•    Hair and make-up: Joplin's hair often looked as though it had not been brushed in weeks. To pull off this look simply mess up your hair a bit when you get out of the shower and let it air dry. As for make-up, Joplin was all natural so if you decide to use make-up go extra light.
Again, the key in dressing like Janis Joplin is attitude and confidence. Joplin looked confident in every appearance she ever made, even when her jeans were so baggy they were falling off of her. You have to feel good enough about yourself and not give a hoot what the average person thinks if you are going to successfully pull of the Janis Joplin look.