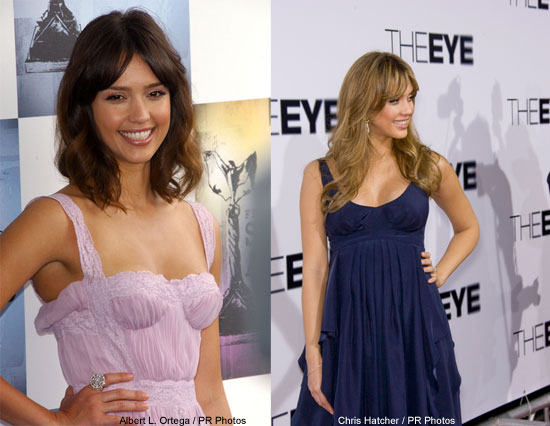 Unlike many Hollywood celebs, Jessica Alba has perfected an ability to look fashionable while still being super-casual. She can pull off simple jeans and blouses stylishly by day, then morph into a glamorous starlet by night. Her style is rarely flashy, instead tending toward quiet sophistication and subtle colors.
Jessica Alba is a great example of how anyone can dress with class, regardless of your budget. Here are a few ideas to help you imitate her gorgeous yet laidback style.

Body. Keep your body toned and fit with a regular exercise regimen. It is the foundation of great fashion! Jessica is known for having a great butt, an area of the body which you can enhance with lots of squats and lunges.

Active wear. Jessica is frequently seen running around town in very casual clothing that complements her busy life as a wife and mom. Active pieces such as velour tracksuits and yoga pants help her stay comfortable and cute at the same time. Tracksuits designed by Juicy Couture are among her favorites, such as this Dog Crest Velour hoodie and pants set featuring a pink, silver and gold crest.
Jeans. Jessica is a fan of True Religion jeans, and has sported the label on and off the red carpet. She prefers a bootcut style with a dark wash, or with slight distressing at the thigh area. True Religion Sammy jeans and True Religion Joey jeans are both favorites.

Modest styles. Rather than baring every inch of skin possible, Jessica Alba is known for leaving something to the imagination. Her gown choices often tend toward the long and elegant, with a minimal amount of reveal. She seems to understand that often less skin is more sexy than a lot! Instead, Jess goes for fitted styles that accentuate her lovely hourglass figure.
Hair. Long, beautiful waves are a signature Jessica Alba look. You can try this with a curling iron. Simply wrap three to four inches of the hair around the barrel of the iron, then gently separate with your fingers. Set with a light spritz of finishing spray, but not too much because the look should always be natural. Jessica also prefers subtle golden highlights, which are best achieved by a professional colorist.
Accessories. Jessica is often seen wearing different styles of hats and caps, which serve to shield her from both California rays and the glare of the paparazzi. For the same reasons, sunglasses are another of her most common accessories. She always has a great bag with her, such as the Botkier Stirrup bag or a Yves Saint Laurent Muse bag. Gucci and Coach also count her among their fans.
Jewelry. Jessica prefers simple jewelry, and never overdoes it by piling on too much. In public she is usually seen in small earrings and a long dangly necklace, or hoop earrings with a simple chain necklace.
Makeup. Like the rest of her style, Jessica's makeup is kept subtle and natural. She accentuates her eyes with neutral browns, and adds a clear gloss to lips for daytime wear. On the red carpet, she will go for a deeper lip shade while keeping her other makeup natural.