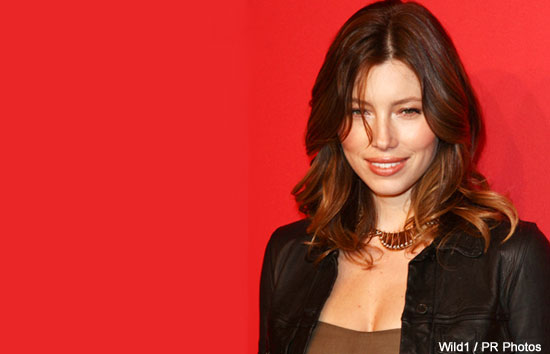 Jessica Biel has an eclectic personal style that reflects the many sides to her personality. Sometimes she prefers her signature tomboyish look with other times she looks ultra-feminine. One of her favorite looks is vintage leather jackets. These bomber jackets are always cut short and are usually in a medium brown that has some distressing. To copy this look, choose a distressed leather jacket that comes down no lower than your waist. Make sure that it fits well- Jessica Biel is known for the perfect fit of her clothes. She's also known for her large sunglasses. No matter which of Jessica Biel's looks you copy, always wear a large pair of sunglasses.
Casual Wear
To go with your brown leather jacket, choose a long-sleeved shirt and a pair of jeans to complete Jessica Biel's casual look. She often wears t-shirts with long sleeves on casual days, choosing either a plain t-shirt or one with a logo or other printed design on it. Her jeans are usually boot cut, and she favors jeans that are dark blue. And, to copy one of her latest looks, rip the jeans a few times for Jessica Biel's lived-in look. She often wears jeans that are ripped horizontally above the knee.
Shoes

With her jeans and t-shirts, Jessica Biel often wears flip flops or simple, flat sandals. Sometimes she goes barefoot. She has been photographed many times out on the town with no shoes at all. But when she dresses up, her shoes are spectacular. Jessica Biel wears extremely high stiletto heels. To get this look, go for strappy heels in bright colors to complement your outfit. Look for heels that have a strap around the ankle and that have a thin heel to copy her shoe style.

Dresses
Jessica Biel loves to wear dramatic dresses when she's walking down the red carpet. The dresses she chooses usually have plunging necklines and other dramatic details that make her look unforgettable. To find a dress like hers, look for a dramatic color like bright red or fuchsia. She also favors short black dresses as well as long white ones. To make it look like something Jessica Biel would wear, make sure that the fit is impeccable. Get your dress tailored to fit you like a glove. If you can wear high heels, get a high pair of stilettos to complete the look.
Workout Wear
One of the things that Jessica Biel is often pictured doing is her daily workout. She is an avid jogger, running outdoors and going on long walks with her dog to stay in shape. To get her workout look, start with a sleeveless t-shirt. The t-shirt can be white or another light color. Pair the shirt with a pair of shorts or sweatpants with a stripe down the side. Wear comfortable, white athletic shoes and wear a sweatband to hold your hair back. This outfit is easy to put together, and it will look just like something Jessica Biel would wear during her daily workout.