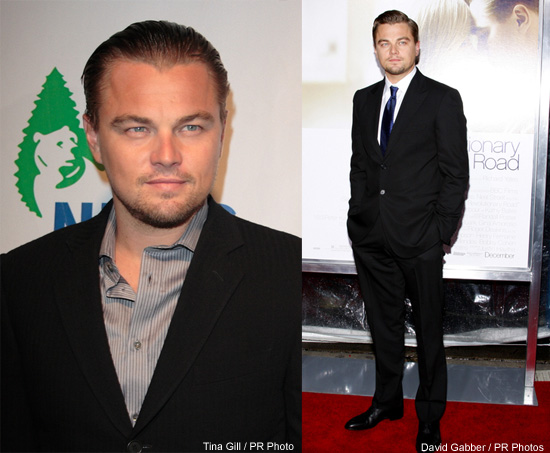 Leonardo DiCaprio dresses in an understated style that keeps him the center of attention instead of his clothes. No matter what the occasion, he prefers a classic look that isn't too trendy or too attention seeking.
Suits
When attending a premier or awards show, Leonardo DiCaprio always wears a stylish suit. His suits are usually all-black, classic suits with narrow lapels. He wears them close fitting but not too tight. To dress up like Leonardo, wear a black suit that has very little styling. Choose a skinny black or black-patterned tie and a plain white button-up shirt to wear with it. Choose a high-quality black leather shoe to complete his look.
In some cases, he has worn a black suit with a back shirt under it and no tie. To get his look, pair a black button-up shirt with the first button left undone. Wear a matching black jacket over it and a more casual shoe.
Casual Wear
When he's dressed casually for a day of shopping or errands, Leonardo often doesn't want to be recognized. He wears clothing that will keep him from standing out in order to accomplish this. In order to get his casual style, wear a pair of straight-leg jeans with a pair of white tennis shoes. Chose jeans that have a medium blue wash ad that are in good condition. Pair the jeans with a plain t-shirt or a polo shirt in white, black or brown.
Along with your outfit, wear a pair of dark sunglasses and a close-fitting baseball cap. He wears the bill facing forward to help shield his face from being recognized. Choose a dark blue or black hat that has a team logo on it to get his baseball cap look.
Occasionally, Leonardo will wear a button-up shirt with jeans. To get that look, pair a black, button-up shirt with a pair of jeans and leave the top button of the shirt unbuttoned. Pair it with a white undershirt that can be seen over the top of the button-up shirt for the authentic look.
Jackets

Leonardo DiCaprio wears a number of different types of jackets, depending on the occasion. Some of his jackets are casual, dark-colored jackets that go well with a plain t-shirt and jeans. He often wears a dark blue and dark gray zipper jackets with a black or dark blue shirt when he's not attending a dressy event.
Another style of jacket that Leonardo favors is a plainly styles black or brown leather jacket. He has been seen in leather jackets of both colors, and he often wears his leather jackets with his t-shirts and jeans. When wearing this outfit, complete the look with a pair of white, lace-up athletic shoes or a pair of light-colored slip-on shoes in order to get his look.
Occasionally, Leonardo chooses a black or dark-colored hoodie in order to hide his identity. To get this look, wear the hood up in order to keep your identity a secret.