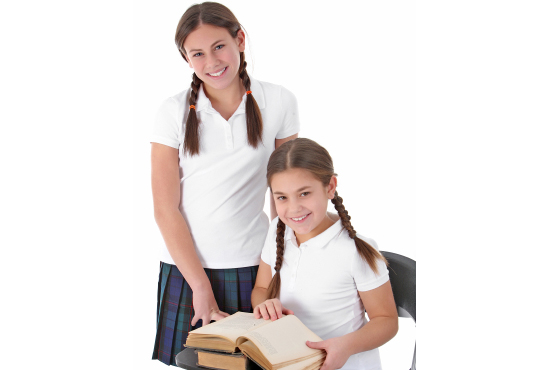 For more and more young people, back to school shopping is easy. Their school wardrobes don't include jeans, t-shirts or sneakers because they have to wear a uniform. The upside to school uniforms is that you don't have to worry much about what you're going to wear, or keeping up with the latest fashion trends. Unfortunately, the purpose of the school uniform is to make everyone look alike, so it's easy to lose your individuality amidst a sea of dark blazers and white blouses. There are ways to help you stand out and express your personality though. Try these tips for accessorizing your school uniform and using other variations to spice up your look.
Follow the rules. Know what is allowed and what is not. Get a copy of your school's uniform policy, and ask an administrator to clarify anything that you don't understand. Bending the rules might be OK at times, but breaking them is best left to actors in the movies.
Off the top. Hair is one of those traits that will make you stand out when you're wearing a uniform, so work it for all it's worth. Experiment with fun hair ornaments such as headbands, barrettes, clips, ribbons, scarves, sparkles and even hair glitter. Try different textures such as straight, wavy and curly, or wear a ponytail one day and your hair down the next. If allowed, you could also experiment with hair color to help you make a statement and keep people guessing. If your school doesn't permit coloring, try subtle highlights or lowlights.
Good fit, good fashion. If you must wear a blouse or collared top, pay close attention to the fit. A fitted blouse or top will be much more flattering to your figure than one that is too large. Consider buying your shirts a size smaller to get a nice fit.
Walk this way. If you wear pants or trousers, find the right style for your shape. You can choose skinny, flared or a more baggy fit, depending on the look you like. Find shops that sell these styles in the color you need rather than ordering from a catalog.
Skirt the issue. Skirts are a great way to add variety and sex appeal to your uniform. Most schools have a length requirement for skirts, so don't try to go for the super-mini. Instead, choose skirts with interesting details such as lace trim, pleats or buckles. Add socks or hosiery with patterns or cute details.
Diamonds are a girl's best friend. Wear earrings, necklaces, rings and bracelets that are pretty but not too flashy. Mix them up from day to day, or find a signature piece that you wear every day. Watches are another fun way to add interest to your outfits.
Wrap it up. An interesting belt can add another element of variety to your school uniform. Look for studded, braided, metallic, patent and other stylish finishes.
Accessorize, accessorize, accessorize. When you're wearing a uniform, it will be your accessories that help differentiate you from the next face in the crowd. Items such as backpacks, purses and cell phones can be used to let the world know who you are and what makes you special.