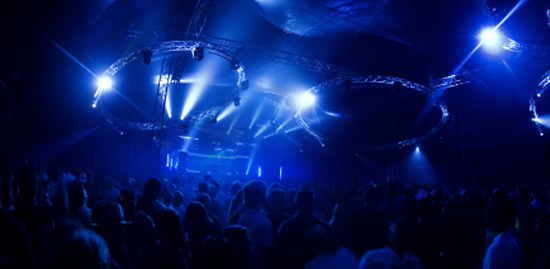 When you are getting ready for a rave, it's important to think about your comfort and safety. There are a lot of do's and don'ts with rave dressing in order to keep from becoming injured and to allow yourself to have fun.
Shoes
If you're at a rave, expect to spend hours dancing. You might be there all night, so make sure you wear shoes that you can move in. If you wear high heels or uncomfortable boots, it will seriously impede your motion and keep you from dancing the night away. Opt for tennis shoes, flip flops or some other comfortable shoe that will allow you to keep going for as long as you like.
Comfortable Clothing
Many girls wear long skirts to raves because they are comfortable and they can be paired with anything. Many girls make their own long rave skirts out of vintage bed sheets or any type of loud fabric. Some rave skirts are made out of dark denim that grazes the floor. Some girls choose to wear miniskirts, but this can impede motion when the dancing gets fast and frenzied.
Peasant tops and halter tops are both acceptable for raves. With the long skirts, a peasant top competes the loose, flowy, comfortable look. With a miniskirt, a short top fits well into the theme of the outfit.
Whatever clothing style you choose, make sure you are wearing loud colors that can be seen from across the room. Wearing primary colors is a good way to make sure that your outfit gets attention. If you have any neon items or glow in the dark ones, these are perfect for a rave as well. Glittery items also work well because of the way they will sparkle under the flashing lights. If you don't have any glitter on your clothing, you can add some with fabric paint or glitter glue.
If you know where the rave will be held, take that into consideration as well. Outdoors raves can be muddy, or there may be a foam pit there. Some people wear vinyl items to these types of raves to keep from being muddy and wet all night. For outdoors, you may need to incorporate a jacket or coat into our look. If it's indoors and you know there won't be foam, you can wear a cooler fabric and skip the jacket.
Jeans
For guys, jeans are the most common item of clothing to wear. There are no hard and fast rules about what type of jeans to wear, but if they are decorated in some way, they may fit into the rave better. Wearing loud pants with bright colors on them or patterns such as plaid or polka dots are also a perfect looks for a rave.
Whatever type of pants you choose, they should be baggy and long. They can't be too baggy if you're going to a rave, and unless you are actually tripping over them, they can't be too long. Look for pants that will fit in the waist to keep them from slipping down but that will be baggy everywhere else.