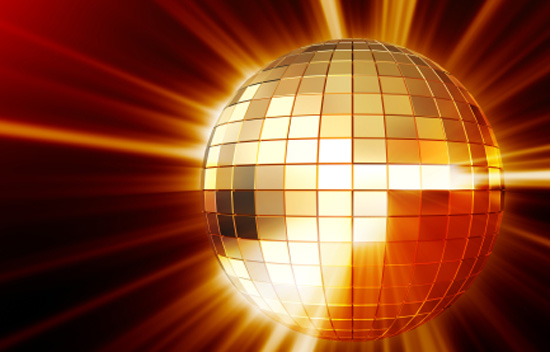 When going to the disco, the styles of the 70's were memorable for their unique looks. There are several different looks that were suitable for wearing to a disco. Most of them involve polyester and spandex in some fashion.
Leisure Suits
Leisure suits are the ultimate way to dress to go to a disco. The iconic image of John Travolta wearing his white leisure suit in Saturday Night Fever led to years of white leisure suit in discos around the world. Wear a white leisure suit and you will be the best-dressed person at the disco. These suits are usually made from polyester, and they come in plenty of colors other than white. Pastel colors are a particularly 70s look. A light coral orange, powder blue, black and white or a green leisure suit is suitable to wear to any disco.
Hot Pants
Hot pants were extremely short shorts that covered very little of the leg. They generally were worn by women, that there were men who wore them as well. Hot pants were worn in any color and they were generally worn with halter tops or with sequined tops. Hot pants in leopard spots, stripes or in metallic fabric are perfect for disco. Many women wore bright pink hot pants along with a brightly colored top. Hot pants that are made from spandex are usually the most authentic-looking.
Dresses
For women, disco dresses were ones that moved and fit well. They should be tight enough to show off the figure but should be flowing enough to move when the woman dances. The dresses were often in white, beige or in a pastel color. Dresses that are silver or that have glitter or sequins on them are also great for wearing to a disco because of the way the light from the disco ball will reflect off them.
Disco dresses should have a defined waistline. This can be done with a disco belt if the dress doesn't already have the right tailoring. A disco belt is any thin belt in metallic colors. Common belts were springy gold or silver-colored metal that fastened with a tiny metal buckle.
Shoes
Platform shoes are the ultimate shoes to wear to a disco. Platforms couldn't be too high or too elaborate. Some of the most elaborate of these has water in the heels with goldfish swimming in them. For women, very high platforms with straps at the top that went several inches above the ankle were not unusual. Both men and women can wear platform shoes to a disco. Women can also wear strappy high heels that are in bright or metallic colors.
Jewelry
For a disco, men should wear gold medallions on gold chains. If you have two or three of these chains and medallions to wear, the look will be even more authentic. For women, too much jewelry would not be appropriate to the look, but small gold details are perfect. Round gold earrings with a small gold charm bracelet are good accessories to wear with a disco outfit.