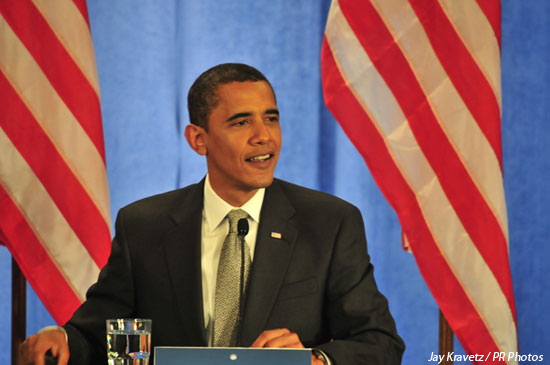 Barack Obama, the 44th President of the United States, is easily amongst the best dressed men in the world. In addition to being President, he is an accomplished author and was a lawyer and college professor before entering politics. One of the younger American presidents, Barack Obama is also the first African American president. Some have called him the best looking president since John F. Kennedy, which means that his sense of style will be critiqued and copied by many. But what exactly is his style?
Fitting his position, Barack Obama is most often seen in suits. The line of suits he gravitates towards is the American –made HSM (Hart Shaffner Marx) brand, which can be found at stores like Nordstrom or directly from the company on their website.  In fact, it was reported that he ordered several suits there before beginning his campaign for the presidency. When necessary, he wears topcoats over his suits, for practicality, warmth and to complete the look. He has mastered making more formal looks for men look like they belong in everyday wear. Formal wear for the President can also be found at HSM. A tuxedo made by that company was the inaugural choice.
For casual wear, Barack Obama is often seen sporting polo shirts or button down shirts and khakis. He is even occasionally seen in jeans, T-shirts, white sneakers and windbreakers. He epitomizes normal when it comes to his casual style. The president shies away from patterns, stripes, designs or anything printed on his clothing. Simple solid colors signify reliability and strength for the commander in chief. It is important to remember that the President is also the Dad of two young girls and as such, casual wear is important and often worn.
An avid basketball player, he wears plain T-shirts and straight leg track pants when playing. He again favors solid colors and his white sneakers. The President gravitates toward simplicity in the way he dresses for playing sports and exercising. This modest look allows for comfort and movement. When in his native Hawaii, he opts for longer khaki shorts.
If you are in the market to copy Barack Obama's look, you will need to invest in solid color shirts for casual wear, as well as khakis and loose fit faded blue jeans and sneakers. For a business look you will also need dark suits with crisp, white shirts and ties that have an almost indistinguishable print. Everything about the United States President's sense of style is understated and classic.
No matter what he wears President Obama exudes class, authority and power. He prides himself on wearing American-made clothing and sets a new standard for well-dressed men. He is never sloppy and always looks pulled together. Even when he dresses down to play with his daughters or for a social occasion, he still gives the appearance of being well dressed.
By following this guide to Barack Obama fashion you can create the perfect pulled-together look for yourself or your man, so that he too can exude power and confidence.