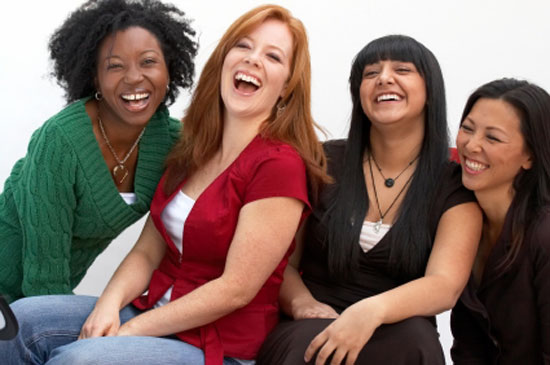 The way you dress should be influenced by the shape of your body. Your body shape is the biggest indicator of what you should be wearing. To understand your own shape and what will look best on it, you need to know what kind of body shape you actually have. There are four types of body shapes and each one has its own best clothing styles that will flatter it.
Apple Shapes
A person with an apple shape has more weight on their upper body than their lower body. They carry some extra weight, and that weight is generally carried around their middle. If this is your shape, then you need to choose clothing that will not cling to your figure. There are clothing styles that will skim over your stomach instead of making it more noticeable. Something with an empire waist will emphasize your bust while skimming over your stomach. Draw attention to your legs by wearing short skirts or skirts and pants that are brightly colored with a dark colored top.
Pear Shapes
You are a pear shape if you have more weight around your thighs and hips. The result is a torso that is shaped like a pear. If you have a pear shape, you need to try to balance your shape to make yourself look larger on top. This will de-emphasize your hips and thighs. Choose tops with wide neck lines to help create this balance. Stay away from any shirt that fits too tightly. This will make your upper body look smaller. Wear a brighter color on top than you do on bottom to help the eye balance the two. This will draw the eye upward and take the attention away from your problem areas.
Hourglass Shapes
A person with an hourglass shape is someone who has a full bust as well as full hips with a defined waist in the middle. If you have this shape, it's easy to make yourself look heavier by wearing items that are not tailored well. If you wear something with a very high neckline, it can make you look for heavier than something with a scoop neck. You should also try to wear something that has a waistline in it. If you don't have anything with a tailored waistline, wear a belt to show off your waist. Stay away from clothes that are too baggy to stiff because they can add bulk to your figure and make you look heavier.

Rectangle Shapes
Someone with a rectangle shape has a straight shape that is not very curvy. Their weight is distributed very evenly without any real problem areas. The challenge with the rectangle shape is to make it look as if you have a defined waist and a larger bust. You may also want it to look like you have larger hips. To do this, wear items that define areas of your figure rather than making everything look the same. A top that is low-cut and draws attention to the bust will make your bust look larger, while an item that has a waist feature such as a tailored waist or a belt will make your waist look smaller.