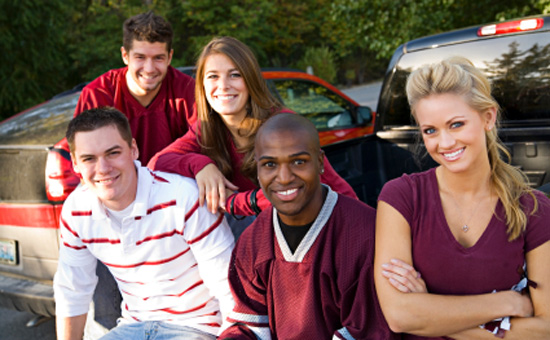 When dressing for college, there are many factors to consider. The main factor for many college students is staying comfortable while still expressing their own personal style. The comfort factor leads most college campuses to be populated mainly by students who dress very casually.
Jeans
Because another main point of dressing for a college campus is to express your own individuality, there are no rules at all about what type of jeans to wear. Some students love the punk or grunge look of torn-up jeans. Others want a more put-together look with pressed jeans or dark jeans that are in excellent condition. Still others prefer a retro look to go with their retro style. Retro jeans are often stonewashed or a very light blue color.
T-Shirts
At college, most students do wear t-shirts regularly. T-shirts are very versatile and they can give students very different looks depending on the type of t-shirts they are and how they are worn. Someone very fashion conscious can choose a patterned t-shirt or a solid color shirt that goes well with the rest of their outfit. Someone who wants to express distaste for fashion may choose a torn up t-shirt or a vintage t-shirt that is not currently in style. T-shirts can be dressed up for preppy students and dressed down for students with other clothing styles.
Skirts
Many students wear skirts to show off a fun and flirty look. Skirts are a great way to stay comfortable and cool while running from class to class. There are very few times when a skirt would not be practical, though a shorter skirt may be less practical. Longer skirts are often favored by students because they are more comfortable when sitting on the floor or when running to a class. Skirts in any color and any style are great to wear on a college campus.
Preppy Style
Some college students have a preppy style that leads them to classic clothing in neutral colors. Preppy style is generally expressed through navy blue, black, white and tan. These colors can be worn together in classic pieces to create outfits that never go out of style and always look well put together. A pair of tan pants worn with a navy blue sweater is a classic preppy look, as is a pair of navy blue pants paired with a white shirt.
College girls who love preppy style often wear plaid skirts with white or navy blue shirts or sweaters. One classic collegiate look is a white button-up shirt with a navy blue sweater worn over it paired with a navy blue and white plaid skirt. These looks can be paired with a pair of dark, beige or white shoes. A pair of black or navy blue Mary Jane shoes look great with a plaid skirt is part of an overall preppy college look. For college men, a pair of loafers always looks great with a preppy outfit. A pair of black or navy blue shoes is also perfect to wear.