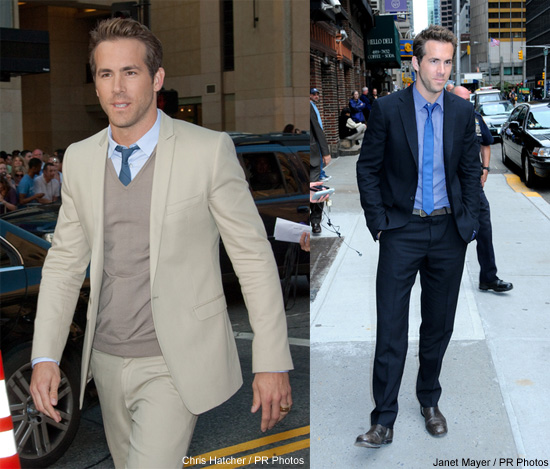 Ryan Reynolds is a fashionable dresser with several stylish looks that reflect his own personal tastes in both casual and dressy attire. His use of outerwear and accessories set his look apart from the crowd.
Jackets
Ryan Reynolds wears a lot of leather jackets when he dresses casually. The actor has several black leather jackets as well as brown ones, and he even has a burgundy one. To get this look, get a leather jacket in one of these colors and pair it with a casual one-color t-shirt and a pair of jeans. Keep the leather jacket simple with no snaps, zippers or other decorations on the front.
Suits
There are many occasions when Ryan Reynolds must wear a suit, and he always comes through with a stylish one. His suits are usually a medium blue or gray. To get his look you can wear either a striped or a solid-colored tie. He has worn both on several occasions.
Shirts
The shirts that Ryan Reynolds wears are generally solid-colored, but he occasionally wears ones that have a pattern. He has won several striped shirts, some with vertical stripes and some with horizontal. With his striped shirts, he usually wears either tan or black pants.
Many of Ryan Reynolds' simple, casual looks are achieved by wearing a plaint t-shirt and jeans. He has been photographed many times wearing jeans and a plain white t-shirt as well as jeans and a plain black t-shirt.
Another way to get his look is to wear a dark-colored t-shirt with a button-up shirt over it. Leave the first three buttons undone to let the t-shirt peek out.
Jeans
Jeans are a big part of Ryan Reynolds' wardrobe. He likes to wear medium and dark blue jeans that are in good condition. If you want his jeans look, wear low-waisted men's jeans that have no holes, stains or other condition problems.
When you wear a button-up shirt with the jeans, leave the shirt untucked. When you wear a t-shirt with the jeans, keep the shirt untucked if you are wearing it without a leather jacket, but tuck in the shirt if you are pairing it with a jacket.

Accessories
Ryan Reynolds wears hats on some casual occasions. His hats are generally round fisherman-style hats that are made of either straw or fabric. He often wears sunglasses when he's out and about, and his sunglass style is easy to achieve. Simply look for simple, no-fuss sunglasses that are dark and that have little styling. Wear the sunglasses with one of the hats for a true Ryan Reynolds look.
Another part of his look is to wear a simple pendant on the end of a long necklace. Look for a small pendant with a square or rectangle shape to achieve the look of one of Ryan Reynolds' necklaces. Wear it with a t-shirt or with a polo shirt. He has also been seen wearing a long necklace with a button-up shirt that was left half-buttoned to reveal his jewelry.