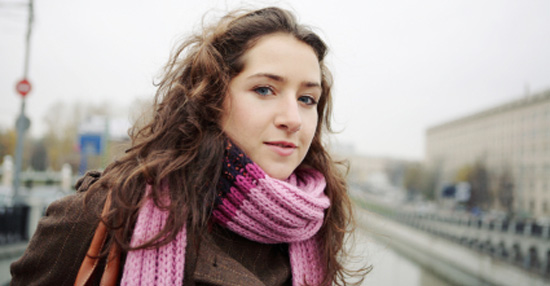 Even in the most sun-drenched California locales, it's only a matter of time before the thermometer takes a nose dive as temperatures dip into the 30's. There's something wonderful about winter weather though … maybe it's the idea of sipping hot chocolate by a cozy fire, or burrowing into a blanket on a cold winter evening that makes winter alluring. And of course there's always the magic of Christmas to look forward to.
Winter clothing should make you feel the same: warm and protected. There's nothing worse than finding your winter wardrobe is ill-suited to cope with chilly, blustery winter weather. When winter really takes hold outside, here are a few ideas to help keep out the chill with smart winter fashion.
1.    Start with the most important cold weather basic: a warm winter coat. There are now many stylish winter coats to choose from (that don't make you look like a shapeless blob), in a variety of styles and materials. Wool is a classic material for winter coats. Well-built trench coats that are cinched at the waist are a great way to keep in warmth. Check out this classic leather belted button-front trench coat by Overland. 1960's-inspired swing coats (such as this long wool swing coat from Lands' End) are also a great winter option, and flattering to nearly every body type. Both styles are available in a variety of patterns and colors, from plaid to neon green, so you can coordinate with your other winter pieces.
2.    Lots of layers are a necessity to keep the chill out of the bones during the winter months. Layers allow you to add and remove layers as your body temperature rises and falls. Start with a long sleeved undershirt in a soft cotton to keep the warmth near your body. Next, go for long, chunky sweaters that can be belted at the waist, a classic turtleneck in a heavy knit, or a button-down cardigan like this versatile grey v-neck cardigan from Urban Outfitters.
3.    Tights are very popular this season, but they tend to feel a bit thin in really cold weather. Instead, substitute a pair of black skinny jeans for more protection against the elements. You can pair them with a long sweater or flowy dress, staying warm and looking chic at the same time.
4.    A cold weather ensemble could never be complete without a pair of great boots. Boot styles
range from ankle booties to fur-trimmed, mountain-climbing, mid-calf boots, with a full array of accents including zippers, buckles, embroidery and seams. Heels are also hot, but impractical if you will be tromping through snow. Ice is another nemesis of the high heel, so don't choose high-heeled boots unless you will be exclusively indoors. A flat or low-heeled boot is a great choice to carry you through the worst of winter.
5.    Top off your look with a fashionable pair of elbow-length gloves. These cozy accessories can be scrunched down or stretched out, depending on your outerwear.