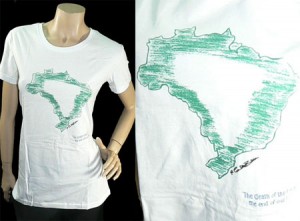 Celebrities including Scarlett Johanson, Camilla Belle, Michael Roberts, Biana Picasso, and Alice Braga partnered with fashion designer Carlos Miele to help raise money for the Rainforest Foundation. The profits from the sale of the $148 t-shirt will go to support the foundation.
The Rainforest Foundation is a non-profit organization that was started in 1989 by Sting and Trudie Styler to protect the indigenous people and the rainforest.
The Rainforest t-shirts are currently being sold at Carlos Miele boutiques or there is one for sale online at Designer Exposure.