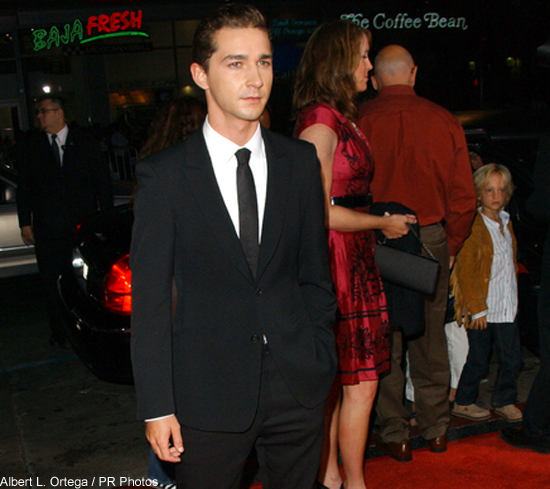 Shia LaBeouf is a casual dresser who always manages to look like he's just thrown something on, but the results are something that has a special style that is instantly recognized as his. His primary style is one that is slightly retro, with a casual 50's feel. Shia enjoys wearing clothing that looks vintage and that creates his own unique style.
Suits
When Shia attends a formal occasion that requires dressing up, he often wears a dark suit that is highly tailored. Like the tiny suits of the 50's, he prefers a tight fitting jacket, skinny pants and a thin tie. He has been seen many times in a black suit with a thin black tie and a light-colored button-up shirt under the jacket. To get this look, try separates that are the same shade of black. The shirt can be white, off-white, or it can have a thin plaid pattern, as Shia has worn before.
For some occasions, Shia wears a thin tie, a button-up shirt and a vest in place of a suit jacket. This look is easy to get by pairing separates that have similar colors that don't precisely match. For one of his vest looks, pair faded black jeans with a dressy shirt and a deep black best. Finish off this look with a skinny black tie. When dressed up, Shia almost always has his sleeves rolled up to his elbow. Even when he has a suit jacket on, he rolls up the sleeves of the jacket and shirt together for a retro 50's look.
Another variation on this look is to wear a black sweater in place of a suit jacket. He has done this for award shows and other dressy occasions, and he rolls up the sleeves of the sweater and shirt just as he does when he wears other dressy outfits. To get this same look, find a black sweater with retro lapels, and wear it with dark pants, a dark tie and a light-colored button-up shirt.
Casual Wear
Most of the time, Shia is a casual dresser who loves to wear comfortable, fashionable clothes with a slight retro flair. One of his casual looks is to pair a brightly-colored plaid shirt over a white t-shirt. To copy this look, button up the plaid shirt, but leave one button undone to show the white t-shirt beneath it. Pair the shirts with a pair of medium blue or faded black straight-leg jeans.
Another favorite casual look for Shia LaBeouf is t-shirts that have an older, vintage look to them. The t-shirts he wears are usually crew neck style, and there's no end to the colors and patterns that he chooses. To choose a t-shirt that looks like one that he would wear, pick one with a retro pattern or one that looks like its been worn for years. He wears many t-shirts that look like faded khaki or that have fade marks on them to simulate a vintage item.