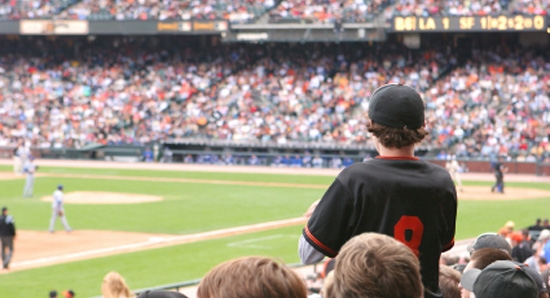 Going to a baseball game is an American tradition, especially in the summer months. In fact nothing seems more typical than enjoying a hot dog, popcorn and a cold drink at the ballpark. Baseball has long been a popular sport in the United States and it draws crowds. Songs are sung about going to baseball games. Movies are made about it. Going to a baseball game is a cultural event. So what do you wear to a cultural event?
What you wear to a baseball game largely depends on a variety of factors. If you are going to one of the few remaining indoor ballparks, weather does not play a factor but for regular parks that are open to the air, you must dress for the weather. That means if you are heading out to a daytime game, light clothing to reflect heat and to stay comfortable. A hat to keep the sun off your face is recommended also; in fact a baseball hat is a great choice. Avoid wearing clothing made from delicate fabric that might be irreparably stained from the sunscreen you will need to wear if you're planning to sit in the sun for several hours.
If you are attending a night game, you will want to bring along an extra layer to throw on when the sun goes down. Inevitably you will become chilled after dark, especially if you've gotten a little sun exposure during the day too. Bringing a sweater, hoodie or cardigan to wear will make the end of the game much more enjoyable. If you are watching a game in unseasonably cold weather bring along a jacket or even a blanket for the evening.
A great choice of what to wear to any baseball game is a T-shirt and shorts or jeans. It is the perfect combination for comfort and a casual outdoor look. Remember to wear sneakers, shoes or sandals that are comfortable because you will inevitably have some walking to do to get to your seat and maybe even some climbing.
Comfort is a major factor in the choice of what to wear to a baseball game. Remember to wear clothing that fits comfortably. If you choose something that you can barely sit down in, you will be miserable for the entire game. You should also make sure that if you wear a skirt, it's long enough to completely cover you while seated. Stadium style seating makes it easy for those sitting in front of you to get a glimpse of more than they should.
The things you should absolutely not wear to a baseball game include anything too formal or business like. You will look and feel out of place and uncomfortable in a business suit at a ball game. Wearing overly dressy clothes is also a no-no. If you'd wear it to a wedding, funeral or to church, leave it at home. Baseball is the ultimate in relaxation and you should dress accordingly.
Get yourself a fun T-shirt to wear when you go to a baseball game. You can even get one custom-printed with a note of support for your favorite team or with something funny about baseball. Whatever the choice you make, a T-shirt is a sure bet for the right thing to wear at a baseball game.