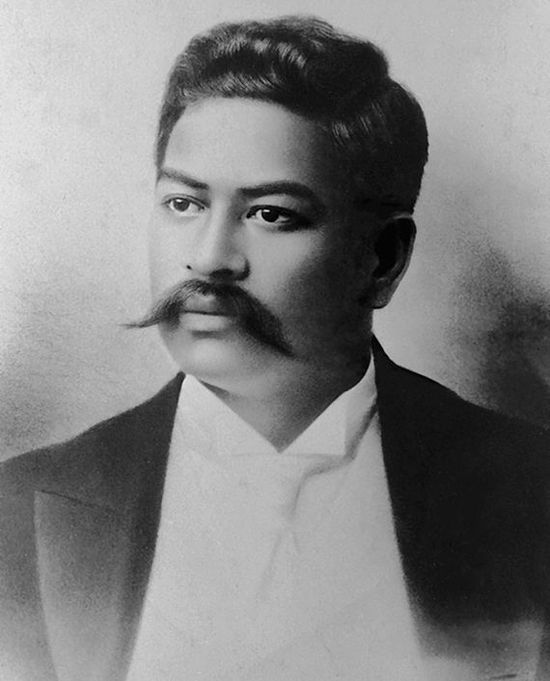 Prince Jonah Kuhio Kalanianaole Day
Whether you can say that name fast or slow doesn't matter, for it's the thought that counts. And the thought of celebrating Prince Kuhio Day in Hawaii has endured since the early 1900's. Just who was Prince Jonah Kuhio Kalanianaole? He was the second Hawaiian to be appointed as a delegate to the United States congress.
Born in Koloa, Kauai on March 26th in 1871, the youngest of three sons born to Kauai's High Chief David Kahalepouli Pilkoi and Princess Kinoiki Kekaulike. Don't try to say these names if you're not Hawaiian born or haven't practiced a while, but do appreciate the legacy that the history of Hawaii brings to the United States. Prince Kuhio served as the Hawaii Territory delegate to the United States congress from 1903 to 1921 and was a founder of one of Hawaii's very first civic clubs that was designed to encourage community efforts, affairs and education within Hawaii's vast communities. The promotion of the Hawaiian culture as a way of life was extremely important to Prince Kuhio, as was his proud island heritage.
Prince Kuhio studied in Hawaii until he attended a four-year college in California and then in England, where he graduated from business school. After Americans overthrew the Hawaiian kingdom in 1893, Prince Kuhio made an attempt to restore the Hawaiian monarch, without success, and he ended up sentenced to a year in prison. After his release, he stayed away from Hawaii for several years and spent his time traveling, until he eventually joined the British Army to help fight in the Boer War. By the time he returned to his native homeland, Hawaii had been annexed as a Territory of the United States. Because of his popularity and royal background, Prince Kuhio was elected as Hawaii's congressional delegate for ten consecutive terms!
Often known as Ke Ali'I Makaainana, or Prince of the People, Prince Kuhio dedicated his life and efforts to preserving and strengthening the Hawaiian people and their ancient heritage. While serving in congress, Prince Kuhio continued to lead efforts to provide housing and shelter for Hawaiians, and was the leading force of the passage of the Hawaiian Homes Commission Act that provided land on which native Hawaiians could build homes and farms.
Known as Hawaii's 'Citizen Prince', Prince Kuhio was destined to be a king before the Hawaiian monarchy ended in 1893. Despite the fact that the Hawaii he had known all his life was going through growing pains and changes, Prince Kuhio nevertheless was a driving force for his people to remain united in culture and beliefs. He was beloved by all, which is obvious by his service as congressman to Hawaii, and his legacy continues to this day.
Prince Kuhio died in 1922 of heart failure. His body is buried in Hawaii's Royal Family Mausoleum in Nuuanu, on the Hawaiian island of Oahu. Recently, a statue honoring Prince Kuhio was designed and erected and can now be seen at Waikiki. On March 26, 1949, a territorial legislature passed a resolution that established the day as a day in which all Hawaiians, and Americans, could honor the dedication of service and love of heritage exemplified by Prince Kuhio.
Prince Jonah Kuhio Kalanianaole Day is celebrated mostly by native Hawaiians in their native state, though it's a day that all Americans can observe, as Prince Kuhio personified the American spirit and pride of heritage that all Americans aspire to. His dedication and loyalty to his native Hawaii continues to be recognized by native Hawaiians to this day, and will continue for years to come. His desire to educate and provide support for his native people is to be admired and remembered every March 26th, on his day.