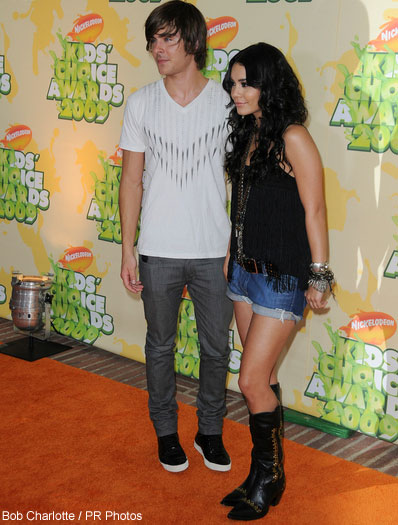 Vanessa Hudgens has many different styles, reflecting her multifaceted personality. She has casual looks that are stylish and comfortable as well as formal looks that are worn when she is going out on the town for a movie premier or for a photo opportunity. Her causal looks and her formal looks are always in step with the current fashions and are always flattering to her cute figure and striking face.
Jeans
The casual looks that Vanessa Hudgens wears are usually tight jeans paired with other flattering pieces. Because she has a nice figure, the jeans she wears are usually jeans with a skinny cut and that are form fitting. Many times, her jeans are rolled up at the bottom with a single fold to make the jeans fit her petite figure. To get this look, simply fold your jeans over once to give the bottom of the jeans the same look. She usually has about a four-inch fold at the bottom of her jeans.
Tops
Vanessa Hudgens often wears long t-shirts that have either short sleeves or that are sleeveless. She likes wearing band t-shirt for bands that she is interested in, such as Pink Floyd. To get this look, choose a band t-shirt in black. Wear the t-shirt in the smallest size that will fit you in order to get Vanessa Hudgens' form-fitting look. She often wears a long necklace with a large pendant over her t-shirts.
Dresses
When she's going out for an important event, Vanessa Hudgens loves to wear stylish dresses. She wears short dresses and long dresses, usually pairing her dresses with strappy sandals or strappy stiletto heels. She likes to have a metallic theme in her outfits, including her dresses as well as the shoes and accessories that she chooses to go with them. To get Vanessa Hudgens' look when you dress up, go for the metallics- especially gold.
Some of Vanessa Hudgens' dresses are completely gold colored. She has worn both short and long dresses in gold. They are shiny, sparkly and very much in style to go out to events and to be photographed in. When she wears a gold dress, she accessorizes it with lots of gold accessories. She often wears lots of gold bracelets with her dresses, no matter what the color of the dress. She also has lots of gold rings and several gold purses that she wears with anything.
Other dresses that she wears are often in either white with gold details, a combination of black and gold or they may be a in a bright jewel tone. If you want a Vanessa Hudgens dress that isn't gold, go for a long, sleeveless dress in bright red. She is well known for bright dresses that sweep the floor, so look for one in bright blue, green or purple. Pair these dresses with a pair of gold stiletto heels and a small gold clutch purse and you will have the elegant look of Vanessa Hudgens for your next dressy event.